Top Tip 1
Book some character meals
Character meals are a great way to spend time with Disney characters  without the ( often quite large ) queues. These are the two we tried on our first trip to Disney World.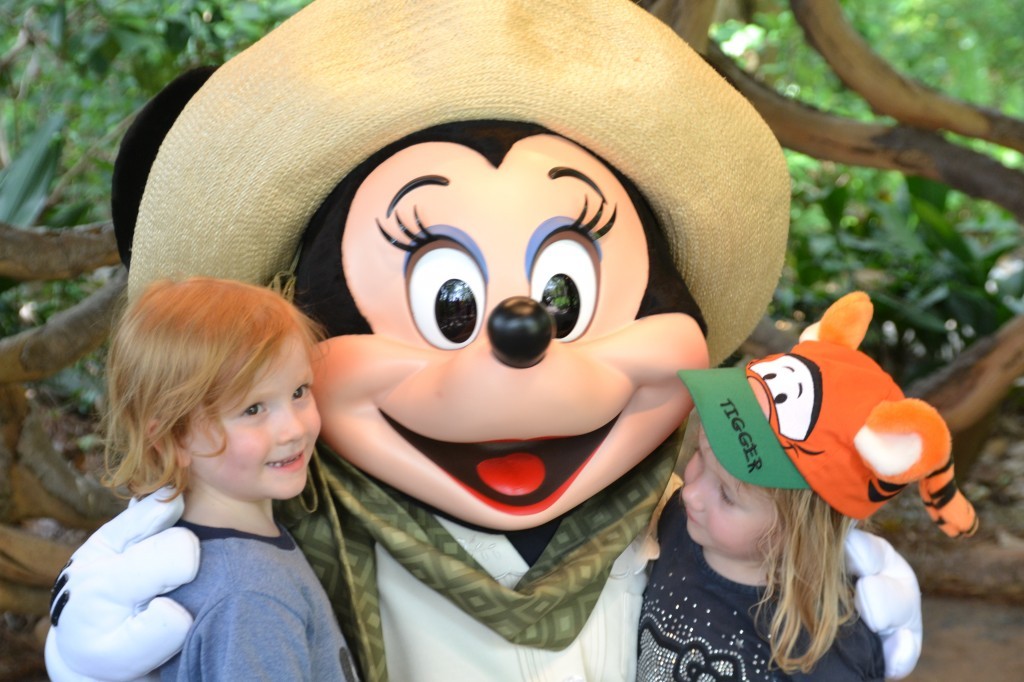 Breakfast at Hollywood and Vine
We had a brilliant breakfast with Jake, Juno, Handy Manny and Oso from Disney Jr  at Hollywood and Vine in Hollywood Studios.The breakfast buffet had an impressive array of foods, everything from mickey waffles and pancakes to build your own omelettes and burritos. It was well worth the money for the food alone, so having characters around was an added bonus. The kids were loved getting up and dancing during the meal too, it was such a friendly atmosphere, this is definitely one we'd do again.
 Winnie the Pooh at Crystal Palace
We loved the food at The Crystal Palace so much we booked for dinner the day after having lunch there. Crystal Palace in Magic Kingdom is a stunning venue, it reminded me of an old fashioned British hotel and the food was fantastic with lots of healthy options as well as the usual Disney treats.
Tusker House Restaurant – Animal Kingdom
We had an amazing breakfast here on our last day with Safari Donald Duck and Friends. The food is African themed and was a lovely change from the usual ( but also delicious ) breakfast menus. The children stuck with the tried, tested and much loved Mickey Waffles, while I filled myself up on spicy corn beef hash with cornbread, spit roasted ham, banana bread and sweet plantains. Everything tasted fresh and was replenished very quickly.
The staff were very friendly, helpful and our whole dining experience was very slick. I would absolutely recommend Tusker House Restaurant. Combined with The Lion King Show, we had a very special last morning at Disney.
Top Tip 2
Chill out in the playgrounds
When the heat gets a bit much or if an older sibling or parent wants to go on a big ride, find a playground to chill out in.
We spent a lovely hour in the Honey I Shrunk the Kids Playground in Hollywood Studios and The Boneyard in Animal Kingdom.
Epcot also has little playgrounds and splash areas dotted around.
Top Tip 3
Watch the Parades
The parades are a great way to take a break from the rides, just make sure you find out the best spots to sit beforehand and get settled in good time ( with drinks and snacks ), as the parade routes do get busy.
Top Tip 4
Watch a show
Disney shows are always amazing and often a brilliant way to get away from the hot sun for a while.
Finding Nemo in Animal Kingdom was  breathtaking and had all three children entranced for the whole show.
The Lion King  also in Animal Kingdom was stunning as well. My little boy still talks about the fire twirling.
Monsters Inc, in Tomorrow land at Magic Kingdom was hilarious and very clever as it was personalised to the audience, we giggled all the way through.
Top Tip 5
Cool down in a Splash Area
When the heat gets too much find a splash area to cool off in.
Our favourite was Casey Jr. Splash 'N' Soak in Magic Kingdom, which was huge and handily located near the train station in Storybook Circus.
Top Tip 6
Fantasyland in Magic Kingdom
Fantasy land is full of lovely family friendly rides. Our favourites were The Many Adventures of Winnie the Pooh, Peter Pan's flight and The Journey of the Little Mermaid.
There are also some meet the character areas, so keep an eye out for these, or pre book your character meets using Fast Pass +.
Top Tip 7
Meet the characters
Magic Kingdom
Tinkerbell's Nook looked beautiful and the perfect place for meeting fairies, unfortunately the week we were there it was very busy, but I wish now we'd waited and not missed such  great photo opportunity.
Storybook Circus has a big circus tent where you could meet some of the main characters.
Ariels Grotto – located next to the Under the Sea ride.
Merida has a special area by the castle.
Animal Kingdom
You can meet Animal Kingdom themed Mickey and Minnie in Camp Mickey and Minnie.
Get the meal plan
If you stay in a Disney World hotel, I would definitely recommend the meal plan. We chose the middle level, which gave us one quick service meal, a snack and a table service meal. It was more than enough for us, and we actually ended up with snacks left over. Most of the character meals counted as just one table service meal, which made them great value for money.
Do you have any more tips for Disney World with Toddlers?